If you configure your "Default account settings" you can use those same settings for all of your virtual tours. This means you can save a lot of time configuring your virtual tours as all your configurations have already be set.
Default settings can be overwritten for all tours using the editor inside each individual tour.
The default settings will overwrite any tour setting that uses the default settings. So if you change the hotspot here, it will change it for ALL the tours that use the default settings. Any tours that have "overwrite defaults" activated will not be changed.
Here are all the available settings for your "Default account settings".
Go to "Config & Settings"

Click the tab "Vt's"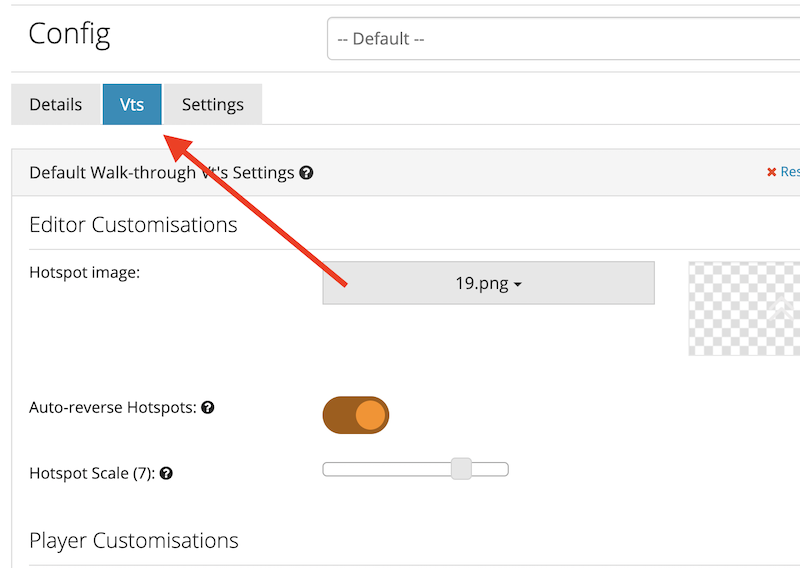 Hotspot Image
Choose any image from 1 to 26 to change your default hotspot image for your tours.
Here are the available options: (empty images are white – hover over them to see them)
AutoReverse Hotspot
Activate to automatically create a return hotspot to the image you are working on.
Leave this activated to make sure your visitor never gets stuck in the tour.
Hotspot Scale
How big do you want your hotspots to be?
The default size is 5. Higher number is larger image, lower number is smaller images.
Result:
Large:
2. Small:
Tour Color:
Change the color of the thumbnail strip on your virtual tour to any color you like
Result:
Orange Borders:
Grey Borders:
Hide Thumbnails
Hide thumbnails on the bottom of the virtual tour player
Result:
With Thumbnails:
Without Thumbnails:
Activate play button
Adds an intro screen to your virtual tour with a play button. You can change / add the text to this screen in  your individual tour settings
Little Planet Intro
Activate for a little planet effect at the start of the tour:
Result:
Shadow Effect
Adds a subtle shadow effect around the images in the player.
Result:
Without Shadow:
With Shadow:
Hide Tour Controls on Start
Result:
With Tour Controls:
Without Tour Controls:
Floating Hotspots
Give your hotspots the "floating" effect (like google hotspots)
Step 1: Activate floating hotspots
Step 2: Choose if you want to hide the original hotspots
Step 3: choose your Hotspot
More about floating hotspots in this article.
Result:
When you create a tour, you will use the normal hotspots to create the tour – they will be replaced by floating hotspots once you publish your tour.
Autorotate
How fast or slow and in which direction do you want the tour to rotate – or do you want to switch the rotate off all-together?
Example:
-1 is slow rotate to the left
-10 is fast rotate to the left
1 is slow rotate to the right
10 is fast rotate to the right
0 is no rotation at all
Time before start
How long time before the rotation should start?
Location infopanel (logo)
You can choose to have it right or left. If the infopanel is on the left, the logo will also be on the left and visa versa.
Transition Type
Choose how you want the images to transition from one to the other.
You can choose a fast blend, slow blend, zoom or no blending at all.
Show Agent Details (real estate accounts only)
You can add an agent business card to the top of your tour. You can also add text to this in the individual tour settings.
Contact Form
Add a contact form to your tours & set the email recipient
Share on social networks:
Activate or deactivate the ability to instant share the tour on social media inside the tour
The social media icons are located in the infopanel of your tour.
Default logos:
Add your logo that shows by default and add a nadir. You can also add the position of the logo here.
Walkthrough player logo = The Full virtual tour you built – should be 100px in height & transparent background if possible
Individual iframe logo= Each individual image – should be 100px in height & transparent background if possible
Nadir Logo = The circle at the bottom of the tour to cover the tripod – should be 200px / 300px in diameter & with a circular background (click here to find out how to make a nadir) 
Default Business Card / Agent Image = if you have activated this feature, your business card will show in the top of your tour. – should be max 200 px wide. 
Image not transparent? Find out here why!