Connect your camera to your phone
Find "auto"
Click "OFF"
You will now see a scrollable menu starting with "noise reduction"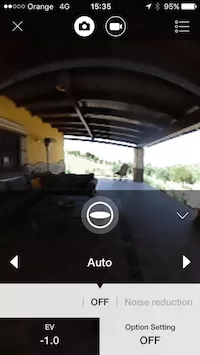 Choose "HDR Rendering"
This should be one of the last options in the scroll bar. Now you can't actually adjust the EV but we have found a little trick to make it work. See next step.
Select "shutter priority"
Using the left/right arrows go from "auto" to the next option which is "shutter priority" – You don't have to do anything here
Go back to Auto
If you then move back to "auto" without having done anything, you will see you can now control the EV (Exposure value)
The EV setting is important to get the best HDR results. In most cases, in rooms with enough light you can leave this setting on "0" but play around with it!