You can find our how many people have viewed your tour, on what page and from what country by adding a Google Analytics code to your virtual tour.
You can set this up directly in Google Analytics and view the results there  -this way you know we don't mess with the numbers, it's real time information!
Here's how to get your tours connected to google Analytics:
Get your Google Analytics code from your Google Analytics Account
Copy your tracking code
In your My360 Account go to: mm management > config & settings

Click on the tab "settings
Paste your Google Analytics Code
Go to your Google Analytics Account
Click on Admin > custom definitions > custom Dimensions
Click "+ new custom dimension"
Add the following dimensions ins the "Name" field (create a new dimension for each field)
PGMProfileCode
PGMProfileRef
PGMVtTitle
PGMParentUrl
Make sure you write it exactly like above with capital letters etc. otherwise the report will not work.
Leave the rest of the settings as they are and make sure de "active" box is checked like so:
Once you are finished, your 4 custom dimensions should look like this:
Click on "customisation" and then "custom reports"
Click "+ new custom report"
Name the report (whatever you like)
Create 4 different tabs:
Tab 1:
Name: URL (or Tour URL or something similar)
Click "add metric"
Choose "Users"
Select "Hits"
Click "Add Dimensions"
Choose "custom Dimensions" and choose "PGMParentURL"
Leave the rest as it is and click "save"
Click on "custom reports" again
Click on "actions" and then "edit" in the dropdown next to your report name
Click "add report tab"
This one will be for the profile codes, so name it simething like "profile code" .
Follow the same guide as above but now choose "PGMProfileCode" as dimension instead of "PGMParentURL"
When done, click save and add the 3rd tab for PGMProfileRef and a 4th tab for PGMVtTitle
Now you should have 4 tabs in 1 report:
When you click on "actions" you can "edit" each of the reports individually.
It can take up to 72 hours for the report to start generating data so hold on tight, it will happen!
Come back after a few days and click on the custom report you created
You can see the total visits on your tours
the first link shows the URL's where your tours are shown
Click on "secondary dimension" and choose any other dimension to see more data
In this case we choose "Vt Title – to show the title of the tours
You can see more tour data: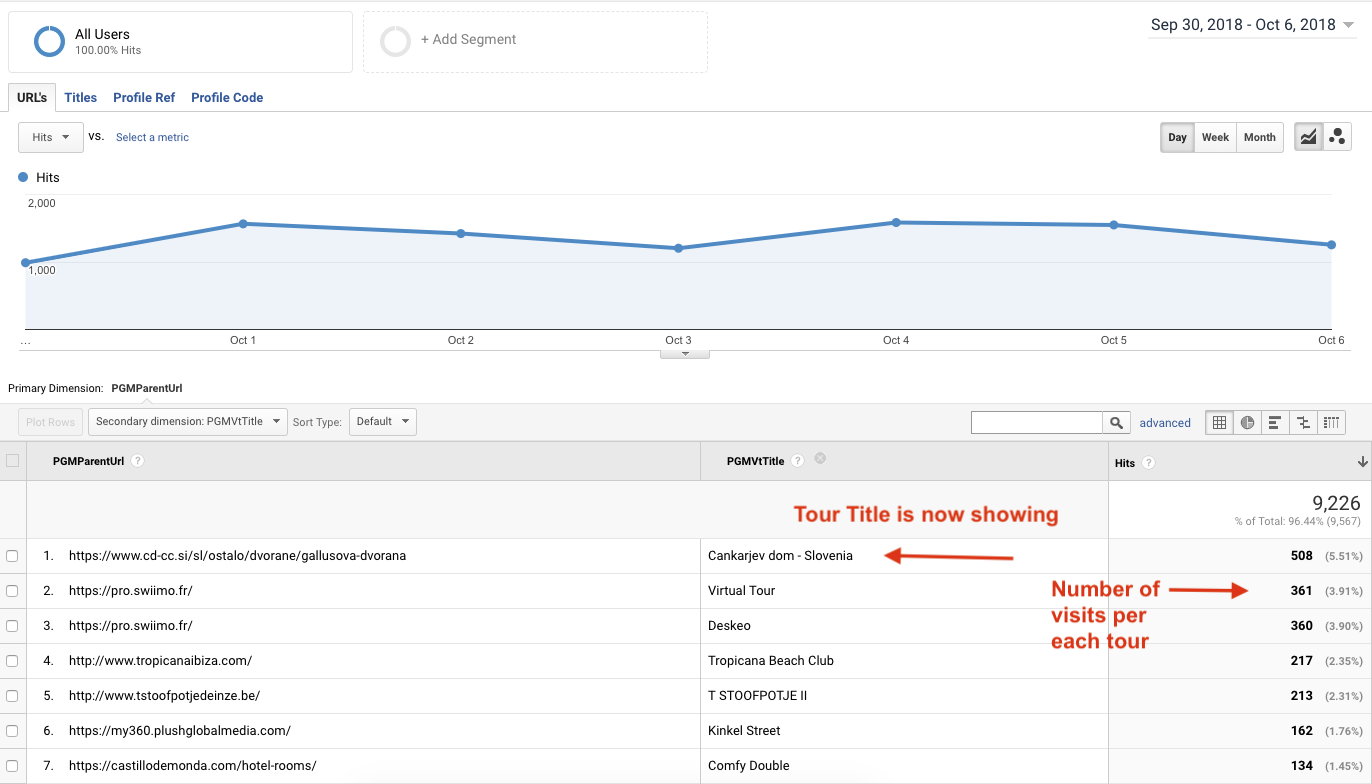 What do the codes come from?
PGMProfileCode is the code My360 assigns to each virtual tour. This can not be changed and can be found by searching for the code inside your My360 admin:
PGMProfileRef is the internal reference code you gave to your virtual tour. This can be found in each tour profile and can be changed by clicking on the "details" tab of the tour profile.
PGMVtTitle is the title you give to your virtual tour in the tour editor:
The PGMParentUrl is exclusively for the URL where the tours are displayed. Please keep in mind the visits you see on "Parent URL" may vary depending on the site's cookie settings and the users browser settings (some safari hits may not be recorded due to cookie policies)